Remote Control Toys
Our selection of remote control toys for kids offers endless entertainment for children and teenagers alike. Choose from a wide variety of options, including best-selling RC cars, robots, solar systems, and even an RC Spider!
We have curated a collection of top-notch Remote Control Toys for children that offer seamless control and operate on multiple channels, allowing for thrilling races among siblings.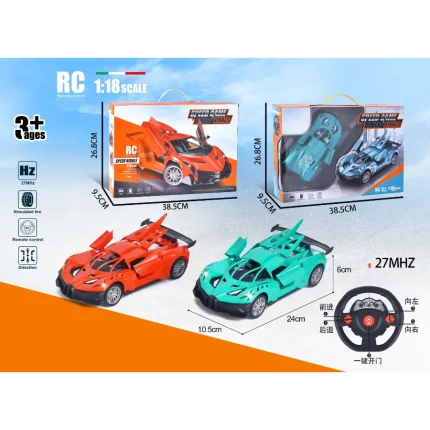 Pack Quantity : 1
Unit Price : £7.95
In stock
£

7.95
Remote Control Toys for Skill, Speed, and Smiles
 Remote control toys are fun and exciting for people of all ages. They let you control things from a distance, like cars, helicopters, and other vehicles. You can use them to race your friends, build obstacles, or just play around. Remote control toys can also help you learn new skills, like hand-eye coordination and problem-solving.
Best Remote Control Toys for Kids of All Ages
It's essential to choose toys that match the child's developmental stage. At SDMAX, we offer a variety of options tailored for every age:
For the Little Ones: Our remote control car suitable for 3-year-olds is designed with safety and simplicity in mind.
Growing Up: The 4-year-olds aren't left out with a slightly advanced model offering more features and challenges.
For the Adults: The fun doesn't stop as you grow. We have remote control cars designed for adults. We also provide more intricate design and advanced capabilities.
Why Buy Remote Control Toys from SDMAX?
When you choose SDMAX, you're opting for top-notch quality and a vast selection. Whether you're looking for educational toys or pure fun, we've got you covered. Great news, a dedicated customer service team is always on hand to assist, and our return policies ensure peace of mind with every purchase. Wholesale remote control toys in UK for adults are available at SDMAX within your choice and best price. Here we also provide wholesale licensed toys for all ages with a decent price.
Best Wholesale Remote Control Toys in UK
Thinking of buying in bulk? SDMAX is your go-to destination. Our wholesale rates are unbeatable, ensuring you get value for money. Whether it's for retail or a grand party, our bulk prices are designed to offer maximum savings.
Remote Control Vehicles & Cars
The world of RC cars is vast. At SDMAX:
Speed Demons: Dive into high-speed chases with our remote control race car.
Law Enforcers: The remote control police car is perfect for those mock chases around the living room.
Off-Road Adventures: Our monster truck toys with remote control are perfect for rugged terrains.
Remote Control Helicopters & Drones
Take to the skies with our range of remote control flying toys. Whether it's the precision of the remote control plane toy or the advanced features of our drones. There's no limit to the fun you can have.
Remote Control Police Car for all ages at SD MAX
At SDMAX, we offer remote control police cars perfect for all age groups. Designed for mock chases around the living room, these toys come with features like sirens and flashing lights. Whether you're a toddler, a teen, or an adult, we have a model tailored for you. Available at competitive prices across the UK, our remote control police cars are all about fun and realism. For inquiries related to purchases, feel free to reach out.
Radio Controlled Toys
What sets radio-controlled toys apart is their range and reliability. Using radio frequencies, these toys offer a seamless experience. From radio control cars to toys, experience uninterrupted fun.
Best UK Remote Control Toys Prices and Features
Affordable doesn't mean compromise. Our toys are competitively priced without skimping on features. Whether it's durability, speed, or aesthetics, SDMAX toys stand out in every category.
RC Robots: Dive into futuristic fun with our range of robotic toys, perfect for tech enthusiasts.
Remote Control Animals: From the mischievous remote control cat toy to the fierce dinosaur toys, T-rex dino, there's an animal toy for every preference.
Specialty RC Toys: Explore our unique offerings like the remote control crane toy, speed boats, and for girls rc rechargeable pink car. The innovative remote control watch toy.
Remote Control Cars for Different Age with different Choices
Remote Control Cars for 3-Year-Olds
At this age, look for cars that have simple controls and are durable enough to withstand a toddler's enthusiasm. Cars with rounded edges and vibrant colors are usually popular. For girls rc pink car and for boys RC blue, off road and monster trucks.
Remote Control Cars for 4-Year-Olds
As children grow, so do their motor skills. Four-year-olds can handle cars that offer more control options such as turning and speed adjustment. We have remote control rechargeable Wall climber stunt car. And 5 channel RC cars.
Remote Control Cars for Adults
Adults can indulge in high-end models that come with complex features, realistic designs, and the ability to perform stunts. 360 degree and wall climber is the best for adults.
Not all RC toys are just for fun; many offer educational value as well. Think programmable robots and kits that teach basic engineering.
From humanoid designs to robot dogs, RC robots offer an interactive experience that goes beyond traditional RC cars.
RC Planes and Flying Toys
Experience the joy of flying without leaving the ground. These toys range from simple gliders to complex drones. We have cheap Remote control drone with maximum flying time. We have hand gestured drone in low price and budget friendly. For example F330 and F300 drone is popular drone like DJI mini 2 and mini3 model.
Remote Control Tractor Toy: Perfect for budding farmers, these toys offer a realistic farming experience with multiple attachments and functionalities.
Remote Control Cat & Dog Toys: Bring a pet into your home without any of the fuss! Our RC animal toys are incredibly lifelike and interactive.
Remote Control Dinosaur Toys: Roam prehistoric jungles and rule the land with our range of fierce and fun dinosaur toys. We have T-rex dinosaur track set.
Monster Truck Toys with Remote Control: For the adrenaline junkies, our monster trucks can conquer any terrain. Get ready for off-road adventures!
Remote Control Crane Toy: A must-have for every young builder, our crane toy makes construction play a fully immersive experience.
Remote Control Toy Boats: Make a splash with our high-speed RC boats designed for water enthusiasts.
Remote Control Watch Toy for All Ages: Time to redefine control! Our innovative remote control watch toy lets you command multiple devices, setting a new standard in RC fun.
Wholesale RC Toys
SDMAX stands out among toy wholesalers in the UK. Our licensed toys are a testament to our commitment to quality. Partnering with us ensures you're aligning with one of the best UK wholesale suppliers.
Don't miss out; embrace the future of play at SDMAX today! Feel free to reach out for wholesale inquiries or collaborations.
Remote Control Off-Road Car for All Ages at SDMAX
Why Choose SD MAX's Off-Road RC Cars?
Built for Adventure: Our off-road RC cars are engineered to tackle rugged terrains, making every outdoor outing a thrilling experience.
All-Age Design: Whether you're 3 or 30, our cars are tailored to suit varying skill levels, providing endless fun for the whole family.
Safety First: For our younger drivers, safety measures such as rounded edges and speed control are a standard feature.
High-Quality Build: Crafted with durable materials to withstand bumps and falls, so the adventure never has to stop.
Advanced Capabilities: Our adult models come with intricate designs and the ability to perform stunts, offering a more technical driving experience.
Affordable Pricing: Enjoy top-notch quality without breaking the bank. Unbeatable prices especially for bulk purchases.
Customer Support: Our dedicated team is always available for any queries or support, ensuring a seamless shopping experience.
Wholesale Options: Looking to buy in bulk? Take advantage of our unbeatable wholesale rates for maximum savings.
📞 Connect and Collaborate
Interested in learning more or making a bulk purchase? Reach out to our team for inquiries and explore the world of remote-controlled fun with SDMAX.